I loved the concise flavors of this dish, but learned that in order to replicate them I had to have the best ingredients.

Taste of Iran: Lari kebab recipe

Iranian student in Italy recreates a traditional dish – with a twist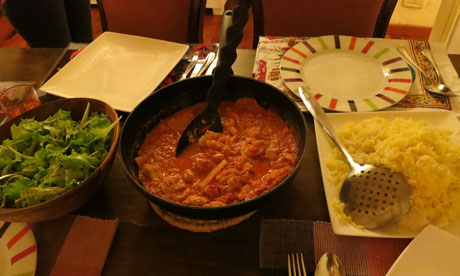 Lari kebab served with salad and jasminebasmati rice. Photograph: Tori Egherman

The Leaning Tower of Pisa is lit against the night sky, the square empty save for a couple walking hand in hand and a man with a dog by his side. In a top-floor apartment a few blocks away, Peyman Majidzadeh is putting the finishing touches on his favorite dish, Lari kebab, made on the stove instead of the grill and with chicken instead of lamb. It might be a stretch to call it Lari kebab, but that's what Peyman calls it and so will I.
During the four years I lived in Iran, not only did I never eat Lari kebab, I had never even heard of Lar, the county seat of Larestan in Fars province. Four hundred kilometres from Shiraz, the province's best known city, it's not one of the more visited corners of Iran.
Larestan sits in the desert, close to the other Arab countries of the Persian Gulf. It has its own dialect, but it has no oil and little in the way of other mineral resources. It has no sites of particular interest to tourists or pilgrims. Very few Iranians from elsewhere in the country have ever been to Lar. Any who do go are likely to be surprised by the small city's wealth and the fact that it is served by an international airport and a six-lane highway.
Read the rest on The Guardian